Flowering Perennials
Salvias


Perennial Salvias in white, wine, blue, purple majesty, and midnight black! Many bloom all year round. Salvias can be planted as a foundation hedge around your house, barn or garage instead of plain green bushes. Plant the all yellow, wine and purple in the background as they freeze in the winter and will just come up to the height of your windows each year. White, cherry, blue, pink and raspberry are midsize and should be mass planted and the midnight black is pretty short all year, so place it along the walkways

Even after a frost, pink, white and raspberry salvias grow and bloom the next week, it seems.

Yellow salvia blooms in the spring or fall. It grows tall has an absolutely stunning long spray of golden blossoms--like a spring forsythia-hence the proper name, yellow forsythia salvia.

Purple Majesty has extra long tubular flowers. Wine blooms in late summer and fall. Both colors are popular with butterflies and hummingbirds. These two colors freeze in the winter but re-emerge again in the spring.

Midnight salvia is actually navy blue in color, but it looks so dark it is considered a black flower. It is the most stunningly attractive salvia as its leaves and stem are silver which contrasts nicely with the dark flower. Also the flower emerges under the stem and hangs upside down. It blooms both spring and fall with some flowers during the summer as well.
Begonias


Perennial Begonias in white or pink. They bloom in spring, summer and fall. These flowers are very cold tolerant and return each year. Great for a flowering bed.
Black Eyed Susan


Blooms in mid summer until fall.
Gingers


There are fragrant white, peach or yellow butterfly or orchid-type flowering gingers. They bloom in late summer through the fall season. They have a flower that opens above the leaves and is very showy and sweet like jasmine. There are many kinds of gingers,some with a spiral leaf pattern. Some variety of ginger is found at all the old area homesteads.

Purple Coneflower


Also known as the medicinal plant, Echinacea. Purple petals surround an orange cone-like center. Blooms all summer and fall.
Shasta Daisies


Large, white, daiseys bloom in late April through June. Very showy. Flowers every year.
Firespike


Has a long spike of tubular flowers during late summer and fall. It grows 4-5 feet overall with its large flower head. It is excellent for attracting butterflies and hummingbirds.
Night Blooming Jasmine


These Fragrant flowers permeate the night air with a strong jasmine scent. They bloom repeatedly throughout the summer and fall. They are not particularly cold hardy. Mulch well to protect their crown during the winter.
CRACKER PLANTS


White Jacobinia, Pink Jacobinia, Pink Sleeping Hibiscus

Cracker plants are so easy to care for, that they are planted at all the old homesteads in Florida. Brown thumb gardners can become green thumb gardeners with my Cracker Plants. They include;
Pink or White Jacobinia, Red or Pink Sleeping Hibiscus, Pink Pokadot, Red Shrimp Plant, Hydrangea, and Blue Sage.
Other cracker plants that you would want in your spring flowering landscape include amaryllis and daylilies.

.
Back to top of Page
Lucia's Cracker Roses
Cracker Roses are found at all the old Florida homesteads.
They have small flowers but are very fragrant. They bloom in sun or shade conditions, they don't get fungus diseases like hybrid roses and they don't require maintenance spraying.
There are red, white, pink, yellow, and hot pink colors. You can also call them Heirloom or Antique Roses.

Louis Philippe, 1834, China
5-7ft tall bush
Double, deep red with a blush of pink and sometimes white at the center blooms
Fragrant, repeat bloomer
'The Florida Cracker' Rose.

Old Blush, 1752, China

Dark Pink 5-7ft
Incredible repeat, fragrant bloomer
Medium, semi-double, lilac pink flowers in loose clusters
Good hedge choice.

White Ducher, 1869, China
4ft. shrub
Shapely ivory buds give way to very double flowers and delicate yellow stamens.
Fragrant
Repeat bloomer, ideal hedge or container specimen.

La Marne 1915,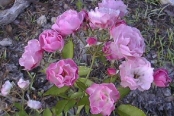 2-3ft. shrub
Clusters of pink rippled petals with white edges. Single form flower.
Smells of apples
Repeat, low hedge or container specimen.

Mutabulis, 1894, China

5-6 ft. tall bush
Yellow, peachy orange and bright pink single-form flowers all at the same time!
Fragrant, repeat bloomer
'The Butterfly Rose'.

Bon Silene, French word 'Good Silence'

Hot Pink
2-3 ft. shrub
Repeat bloomer, long lasting bloom.

Pink Pet, Polyantha

Light Pink 3-4ft
Two-inch double bloom pompom flowers.

Red Cascade, 1951,Climber

Red 10-15 ft.
Cascades a caroet of one inch red blooms from May to December.

Plants are for local sales only.

Click here for more of Lucia's Garden Articles

Back to top of Page